Lord of the Rings Online (LOTRO) has been updating their game almost every 2 months with new changes and areas. Book 11: Defenders of Eriador! was added on October 24, 2007. This book brought a new smaller 12 person raid called the Rift with a balrog to fight against. I haven't done any raiding in this game yet but I have heard this raid is very challenging. I also have reached level 50 with my minstrel and rank 7 with my spider in monster play. I'm the first rank 7 spider on the server I play on so It's a big accomplishment but I get no new skills so that's a disappointment.
This update also allowed players to buy houses for themselves and for their kinships. Players can decorate their houses with brand new items and some crafted items. There are 4 different housing areas for each race: dwarf, elf, hobbit and man. I picked the hobbit housing for my characters and kinship house just because that is my main race and my kinmate liked the houses.
The misty mountains was expanded with a new area which includes the goblin-town. Trollshaws area was expanded too. A lot more quests for the higher levels were added with some great items with good stats. You might also meet gollum in one of these quests. It is a fun quest when you finally find it and doesn't break the lore at all. Gollum's cave in the Goblin town area is a a great place for fans of the Hobbit book to visit. It's not easy to get to unless you are a high level character.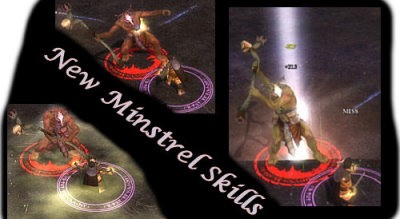 Lore masters and minstrels got some new skills which really was a great addition. Lore masters can rez (resurrect) a fellow player and have more pets. Some of these pets are passive and only for looks. Lore masters can lay tar down on the floor which makes mobs slow down to a crawl and vulnerable to fire. Minstrels can now do some good damage if they sacrifice their healing a bit. Minstrels get some better healing too but the best part is now they have better dps for solo play.
Some changes to other classes didn't play well with players. Hunters biggest damage skill now places a big x mark on a creep in PVP so it's a warning for the creep to get out of the way. When hunters track players in PVP the creeps get notified of being tracked now. Burglars didn't appreciate the 10 second timer on their sneak skill which didn't have any before. But Burglars are still the best at PVP and can still survive easily.
Monster players can now use warband maneuvers which allows a stronger attack within a group. This only used to work on the freep side but only to npc characters. Now both sides can use it on any player character or npc's. In my opinion this was not the right thing to do. The attacks were too strong and it pauses the fight which is not good in a PVP setting. I've suggested to keep the group attacks but not allow them on player characters. The creep side got some needed skills for higher ranked players which allowed for better fights. There were plenty of silly bugs that got though testing but I felt these were not as bad as the last update.
This update provided a lot of content for high level characters. The housing was the best due to the chests which allowed players to save more items. The rift seems a big success from what I have heard and read. It's challenging, entertaining and gives great rewards. The new skills for minstrels and lore masters were great and it made players have more choices on how to play their class. The new skills made PVP more difficult in some ways with the tar being the most hated update skill.
I give this update a 8.5 out of 10.